Thomas Feuerstein, PARLAMENT, 2009, installation view, photo: Eva Würdinger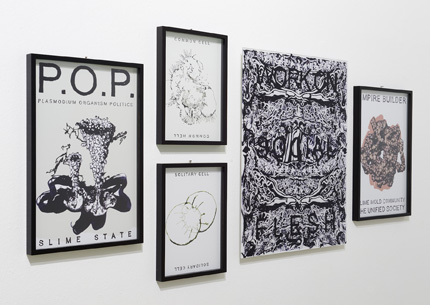 P.O.P., 2008
C-print on aluminium, 60 x 40 cm

COMMON CELL, 2008
C-print on aluminium, 40 x 29 cm

SOLITARY CELL, 2008
C-print on aluminium, 40 x 29 cm

EMPIRE BIULDER, 2008
C-print on aluminium, 60 x 40 cm

WORK ON SOCIAL FLESH, 2008
C-print on aluminium, 60 x 43 cm

Courtesy Galerie Elisabeth & Klaus Thoman, Innsbruck/Vienna,
Galerie Nicola von Senger, Zurich
Thomas Feuerstein (AT)
PARLAMENT, 2009
Glass, myxomycete (Physarum ssp.) vitrine, 170 x 85 x 75 cm
Biotechnological realisation: Thomas Seppi, Department of Radiotherapy and Radiooncology, Medical University of Innsbruck
The glass sculpture PARLIAMENT serves as a bioreactor in which myxomycetes grow. In contrast to conventional fungi and other biological organisms, myxomycetes, also called slime moulds, form plasmodia, or giant cells, which can extend across several square metres, depending on the species. The glass vessel consists of a central chamber that is connected to six round-bottom flasks by six coiled pipes. The flasks hold various cultures of the slime mould species Physarum, which wander the pipes in search of nourishment, finally to arrive at a food depot in the upper chamber. The six cells meet in the chamber of PARLIAMENT and are faced with the choice of merging or remaining separate.
Feuerstein's projects are accompanied by photographs, videos, texts and above all by drawings. For the work PARLIAMENT the latter have been compiled in the work series P.O.P. (Plasmodium Organism Politics).