Godofredo Pereira, installation view, photo: Eva Würdinger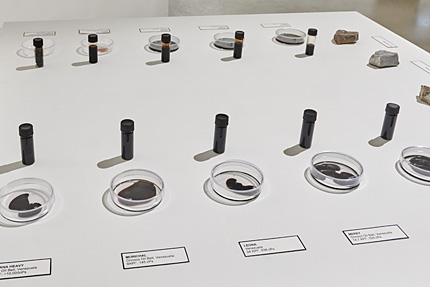 Godofredo Pereira, exhibition view, detail, photo: Eva Würdinger
Godofredo Pereira (PT/GB)
Axiomatics, 2014-15.
Classification matrix, light box, oil samples, archival material,
video (color, sound), 20:29 min.
Axiomatics is a project that explores how techno-scientific modes of classifying the Earth become sites of political struggle. The piece focuses on the Orinoco Oil Belt in Venezuela to show how a dispute over the classification of underground resources became central to the Bolivarian revolution.
At stake is a shift in the classification of Venezuela's hydrocarbon reserves from bitumen to heavy oils. While several governments during the 90ties found bitumen to be profitable in the international energy market, the government led by Hugo Chávez was concerned with how heavy-oil would provide more revenues to the state and enable the Bolivarian revolution's social and territorial projects.
In the context of an oil-based economy, such a shift in classification constituted a radical semiotic transmutation of the body politic. By showing how Chávez narrates the spaces left by techno-science's indeterminacies, this piece foregrounds the political potential of a counter-hegemonic use of hegemonic tools.